My weekly FP column just went up:  "Welcome to the Middle East, Mr. Secretary — here's what to expect."  The column offers John Kerry some friendly advice on what he is likely to hear and what he should say in Saudi Arabia, Qatar, the UAE and Egypt.  Besides some suggestions on Syria and Egypt, I urge him to bring up democracy and human rights issues on all of his stops — including raising Bahrain and Mohammed Fahd al-Qahtani in all the Gulf capitals —  no matter how awkward that might seem.  There's only one chance to make first impressions, and not mentioning them will speak volumes.  
I was pretty happy to be able to work "Louis Vuitton John" into the piece, though I couldn't find a place for the full lyrical reference: "since I signed the con I'm Louis Vuitton John heading out to Ram to eat up all the shwarm."  That's what blogs are for. 
And since I couldn't figure out how to get the inspiration for the piece's title  into the actual column, I'm thrilled to be able to post it here (thanks Erin!):  Welcome to the Middle East, John Kerry.. Hope You Survive the Experience!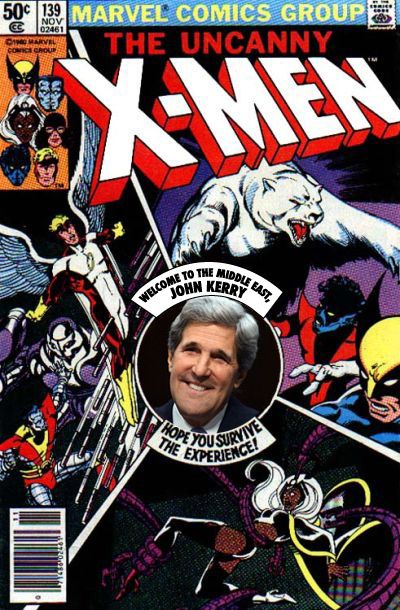 I'll have more discussion of it in a later post, but for now I just wanted to be sure that blog readers knew about it.  After getting Big Sean and a classic X-Men meme into an FP article, my work here is done.