[by Mark Safranski, a.k.a. "zen"]
I have a tremendous backlog of good books to review that I have read in recent months and I am facing the fact that it is dubious that I will ever to get to feature most of them here.  As a stopgap, I am going to try a few mini-reviews instead of the more noteworthy, or at least interesting, titles. Here are two:
1. Stalin: Volume I Paradoxes of Power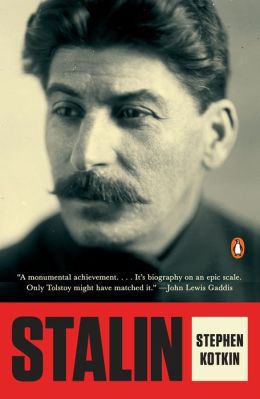 Stalin: Vol. 1: Paradoxes of Power 1878-1928  by Stephen Kotkin
Eminent diplomatic historian John Lewis Gaddis praises Princeton's Stephen Kotkin for his new biography, calling it "A monumental achievement". This is certainly correct. Kotkin has done more than break new ground with Stalin: Paradoxes of Power; in my view it is arguably the best book on Joseph Stalin ever written.
Admittedly this is high praise. It is true, that Kotkin is not in the same literary class as Simon Sebag Montefiore, who demonstrated his great prose skill with masterfully written and deeply researched biographies of Stalin, but Kotkin is always a clear, effective and always forceful writer. Where Kotkin excels is in the granularity of his biographical narrative, unearthing aspects of Stalin's childhood and early revolutionary days, the intra-party rivalries with leading Bolshevik personalities, especially Stalin's complicated relationship with Vladimir Lenin and Stalin's skill as a politician and grand strategist. The narrative is accompanied with Kotkin's piercing psychological analysis of Stalin's criminal psychopathology emerging from a combination of complex rational political calculation and a bottomless well of narcissistic self-pity that ate away at Stalin's soul.
If volume 2 equals the first book, Kotkin will have written the definitive work of Stalin for years to come.
II. Salinger
Salinger by David Shields and Shane Salerno
The book that accompanied the documentary of the same name, David Shields and Shane Salerno have put together a remarkable page turner that explains the mystifying author behind one of America's most iconic literary works.
"Don't worry if all of the first wave of you are killed, We shall simply pass over your bodies with more and more men" 
J.D. Salinger's counterintelligence unit spearheaded the landing of the 4th Division on Utah Beach on D-Day, Salinger participated in five major battles in the European theater including the deadly Hurtgen Forest where his regiment suffered 200% casualties and GI's fighting in summer uniforms without blankets or winter coats froze to death in foxholes. A CIC field interrogator, Salinger operated with great freedom and authority and after participating in the liberation of the concentration camp complex known to history as Dachau, he checked himself into a mental hospital. To paraphrase Shields and Salerno, J.D. Salinger carried six chapters of The Catcher in the Rye in to battle with him, a book that took him ten years to write and which he then regretted for the rest of his life.
Salinger the Documentary