[by Mark Safranski, a.k.a. "zen"]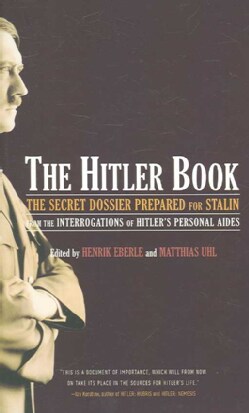 The Strategist: Brent Scowcroft ad the Call of National Security by Bartholomew Sparrow
The Fall of the Athenian Empire by Donald Kagan
The Memoirs of Ernst Rohm by Ernst Rohm
Heinrich Himmler by Peter Longerich 
The Origins of the Final Solution by Christopher Browning
The Hitler Book: The Secret Dossier Prepared for Stalin by Henrik Eberle
Some new books….
The bio of Brent Scowcroft, if my impressions from picking up and opening to two random sections are valid, is going to be very. very good (they were on Scowcroft's estimation of the working relationship of Henry Kissinger and Richard Nixon and Scowcroft's strategic adice to the first President Bush during German reunification). I was very impressed both with Sparrow's prose and his ability to let Scowcroft's voice shine through the text.
I'm a fan of the pessimistic Donald Kagan and recommend his Yale Open Courseware series on Ancient Greece from time to time to my own students who show an interest in the Classical world. One of Kagan's students, now an academic nautical archaeologist, John R. Hale, also produced a fine history of the Athenian navy and the intertwining of thalassocracy, empire and the Radical Democracy and I recommend that book to my students as well.
The next three books are related.  Last year I read the frequently useful, but also at times turgidly tedious, I Knew Hitler, by Kurt G. W. Ludecke. The cause of Ludecke's downfall with his semi-friend Adolf Hitler was the former's constant embrace and enthusiastic promotion of the populist roughneck, leftist and "idealist" figures in the Nazi Party, like Ernst Rohm, the Strasser brothers and Alfred Rosenberg and Ludecke's belief that the "movement" came before the Fuhrer. Ludecke dedicated his massive memoir to the memory of Rohm, who was the catalyst between the old Freikorps paramilitarism of the old German nationalist Right and its hideous and radicalized offspring, National Socialism. Rohm is a key figure in the development of Nazism and a complicated one, being one of the few early Nazi leaders to have been on familiar ("Du") terms with Adolf Hitler and his sudden fall had wider implications than were realized at the time – including inspiring Stalin to reshape Soviet society with terror and murder  ("Hitler, he shows us how to deal with political opponents!"). Rohm's memoir has been partially translated into English and deals with the early years when the Nazis were but one extremist party in an ecosystem of radical right German politics.
Peter Longerich is one of the top German experts on the Holocaust and it is fitting that he has completed a monumental biography of Rohm's former deputy, Heinrich Himmler, Reichsfuhrer-SS and the chief implementer of the Holocaust of European Jewry. Chris Browning, another expert on the Holocaust also has much to say on the role of Himmler and competing Nazi functionaries in the evolution of genocide as a state policy of the Third Reich. Finally, The Hitler Book was an NKVD/MGB top secret analysis put together by Soviet intelligence for Josef Stalin, mirroring, to a small extent, the OSS psychological profiling of Hitler and top Nazi leaders during the war.
Recently, T. Greer of Scholar's Stage blog asked me how many of the strategy related books on my shelves had been read vs. being in the antilibrary. The answer was "most". My antilibrary tends toward history and biography where I buy books more quickly than I can read them, while more instrumental books are bought and read shortly thereafter. I also trend toward "collecting" in Soviet studies, classical antiquity, Second and Third Reich Germany, US diplomatic history and books related to the Nixon administration.
What are you reading and buying these days?