[by Mark Safranski, a.k.a. "zen"]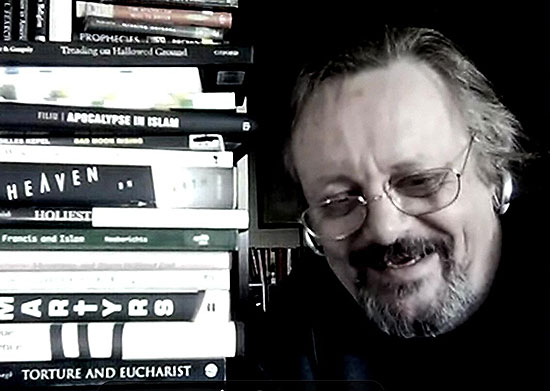 I am not sure how many of the readers ever make it to the "About" page, but there are blurbs for all of the bloggers here, done in my usual ad hoc style. This is what it reads for Charles Cameron:
Charles Cameron,  has also posted at Small Wars Journal, All Things Counterterrorism, for the Chicago Boyz Afghanistan 2050 roundtable and elsewhere.  Charles read Theology at Christ Church, Oxford, under AE Harvey, and was at one time a Principal Researcher with Boston University's Center for Millennial Studies and the Senior Analyst with the Arlington Institute. 
All well and good, though that does not begin to scratch the surface of Charles who has a most interesting biography as a poet, bohemian adventurer and independent scholar. There's a bit more available at his Sembl project page. If you ever have the chance to sit and talk with Charles F2F over coffee or a beer, you are in for a treat, if wide-ranging intellect and deep learning delivered with gentlemanly grace is your thing.
The reason for this post is that there is a new addition to Charles' bio – he is now the Managing Editor of zenpundit.com.
Charles's contributions here in terms of writing are invaluable, but he has also been an increasing factor behind the scenes. His ideas for potential round table projects, soliciting guest posts, recruiting new bloggers and raising the profile of ZP have been all to the good. I have come to realize that my own limitations in terms of schedule to execute some of these ideas Charles has brought may be preventing good things from happening that the readership would enjoy. It is time for me to step back a bit and give Charles the freedom to grow the blog and move zenpundit.com  forward.  I can't think of anyone better suited for the role than Charles Cameron.
Yes, I will still be here, as will Scott Shipman and Lynn Rees, but it's time for a new hand at the wheel.
"Truth is lived, not taught"
 – Herman Hesse