It's time for the 2012 version of my annual list of the Middle East Channel's best books of the year on the Middle East… and, of course, the year's best hip hop albums!  Each year, I read through as many books about the Middle East as I can with an eye towards recommending the most thought-provoking, interesting and useful publications of the year (2010 winners here, 2011 here).  My own book, The Arab Uprising: The Unfinished Revolutions of the Middle East, is of course ineligible (but for those who care, the paperback is now available and here's a bunch of reviews).  Unfortunately for the winners, there's no grandly named award and no cash prize, but at least there's the glory.[[BREAK]]
A few words on the process. As always, it's just me making the list — no committee, no free books, nobody screening submissions. That means that the selections tend to follow my own interests, and I
probably overlooked or just didn't get into some outstanding books. I made every
effort I could to look at as many potential candidates as possible, and
ended up reading more than fifty eligible books (here's a mostly complete list, though I may have forgotten some or left off those which I only skimmed;
really good late 2012 books which didn't make it onto the pile in time
this year will be eligible for next year's).   Reading and rereading them (along with grading) is why I haven't been posting much the last week.
I have a slight bias
towards university press books, though I'm entirely open to well-written
and serious books from other presses.  I pay more attention to the Arab
parts of the Middle East than to Iran, Israel or Turkey, and hope
somebody else digs into books on those areas.  And I tend to like books
which make me feel that I've actually learned something new — rich and
unique empirical detail, novel theoretical approaches, unexpected
comparisons.   I don't agree with
everything in every b0ok, and none is without flaws. But all provoked me
to think in new ways, taught me new things, held my interest against the allure of Twitter, and challenged my
interpretive frames.   
Last year I named two top winners: Stephane Lacroix's Awakening Islam: The Politics of Religious Dissent in Contemporary Saudi Arabia and Wendy Pearlman's Violence, Non-Violence and the Palestinian National Movement, along with a few honorable mentions. 
There were a lot of really good books this year, but I didn't think any stood head and
shoulders above the others like in 2011.   So instead, this year I have
decided to list ten books in alphabetical order.  All are impressive in
their own ways.   And so, without further ado, the Middle East Channel's Top Ten Middle East Books for 2012:
Hussein Ali Agrama, Questioning Secularism: Islam, Sovereignty, and the Rule of Law in
Modern Egypt
(Chicago). At a time when Egypt is consumed with debates about the role
of Islam in the constitution and the role of the courts, Agrama's book
offers unique and fascinating insight into the actual operation of
Islamic laws in Egyptian society.  While at times a bit distracted by the 
jargon of his field, the book finds its stride with a deep reading of the Nasir Hamid
Abu Zayd hisba trial and then breaks genuinely new ground with
its ethnographic examination of the Fatwa Council al-Azhar and Egypt's
personal status courts.   Simply fascinating.
Nathan Brown, When Victory is Not an Option (Cornell).  How did political competition with the certainty of defeat shape the strategies and ideologies of Muslim Brotherhood political parties?  
Completed shortly before victory
actually became an option for a number
of Arab Islamist political parties, Brown's comparative study will stand
as one of the very best examinations of an era which has passed.  He
places Islamist political parties into an effective comparative and
historical perspective, showing well what is unique and what is common
among such political parties.   And he shows well how Muslim Brotherhood political parties have adapted to their particular political environments… and anticipates the problems they would face when those political horizons suddenly and dramatically changed.  See Brown give a talk about his book here, and my conversation with him about the Egyptian constitution here;  among his many Middle East Channel articles are "Egypt's State Constitutes Itself" (November 2012), "Cairo's Judicial Coup" (June 2012) and "Egypt's Transition Imbrogliu" (April 2012).
Christopher Davidson, After the Sheikhs: The Coming Collapse of the Gulf Monarchies

(Columbia/Hurst).  Davidson digs deep into the ruling bargain which sustains the Arab monarchies of the Gulf and shows powerfully the mounting challenges they face.  It would be easy to get distracted by Davidson's
provocative prediction of impending turbulence in the states of the Gulf
and miss his careful, rigorous dissection of their historical evolution
and mounting internal and external challenges.  This book should be widely debated among those interested in the future stability of these wealthy Gulf states.   For Christopher
Davidson on the Middle East Channel, see "Gulf Autocracy in Question" (November 2012)
Ziad Fahmy, Ordinary Egyptians: Creating the Modern Nation Through Popular Culture

(Stanford).   Fahmy's account of the emergence of the Egyptian public
sphere from the 1870s through 1919 is richly detailed, theoretically
sophisticated, and beautifully written.   While carefully attuned to the
broader theoretical and historical literature on the public sphere, Fahmy very
effectively shows the contours of a distinctively Egyptian public sphere
and its contribution to the emergence of modern Egypt.  This isn't an era of Egyptian cultural history which I knew well, and I roundly appreciated Fahmy's rich and evocative discussion of the changing media landscape and the fields of cultural production. 
Bassam Haddad, Business Networks in Syria: The Political Economy of Authoritarian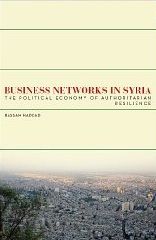 Resilience
(Stanford).   The uprising of the last two years has exposed the relatively thin state of contemporary scholarship on Syria.  In this useful book, Bassam Haddad carefully traces the political and economic
networks which underpinned the regime of Bashar al-Asad, and the
changing political economy of that regime in the decade leading up to
the uprisings.  He shows effectively the real distributional and
political impact of economic reforms, the impact of trust deficits and corruption, and the terrain of competing power
centers within Baathist Syria.   See Haddad discuss his book at GW here.
Gregory Johnsen, The Last Refuge: Yemen, al-Qaeda, and America's War in Arabia
(W.W. Norton).   I've read far too many accounts over the years of
al-Qaeda, Osama bin Laden, and the
war on terror — some excellent, but
too many covering the same familiar ground from a primarily American perspective.  Johnsen has produced one of
the few such books to fully incorporate the local into that story by
focusing on Yemen without losing sight of Washington.  His Yemeni focus decenters the familiar narratives about al-Qaeda.  He has drawn most
attention for his criticism of American reliance on drone strikes, but
his book ranges far more broadly to situate what we now call Al Qaeda in
the Arabian Peninsula into the history of Yemen, Saudi Arabia, and the
broader Middle East.  For Gregory Johnsen on Foreign Policy, see "Ignoring Yemen at Our Peril" (December 2010) and "Losing Yemen" (November 2012).
Hazem Kandil, Soldiers, Spies and Statesmen: Egypt's Road to Revolt (Verso). 
An entertaining
and challenging historical narrative of Egypt from
Nasser's revolution to the year following the January 25 revolution. 
Kandil gives an often gripping historical narrative which is both
theoretically informed and full of fascinating details drawn from a wide
range of Egyptian and archival sources.  Some of the historical judgments could be challenged, but the debate would surely be an informative one.  Refreshingly, his account focuses more on
the machinations of the officer corps and the political class, and on a
changing political economy, than on the Muslim Brotherhood.  The dissection of the institutional battles between the military, security services, state institutions, Presidency and political class offer fascinating perspective on today's tortuous Cairo politics.
Daniel Kurtzer, Scott Lasensky, Steven Spiegel, Shibley Telhami and William Quandt,  The Peace Puzzle: America's Quest for Arab-Israeli Peace, 1989-2011
(Cornell).  Close
to the final word on the American perspective on the
diplomatic history of the peace process, with five deeply experienced
authors who conducted hundreds of interviews with nearly all the
participants.   The Peace Puzzle corrects the historical record
repeatedly, particularly the distortions which have emerged through
memoirs and entrenched journalistic narratives.  While it will not
satisfy those who would prefer to see more attention to the lived
experience of Israelis, Palestinians or other Arabs, it covers its
chosen terrain of diplomatic history extremely well.  I only wish I
could share the optimistic view of the authors that a record of nearly
constant failure over multiple administrations suggests only that
different tactics might have succeeded.. or might yet succeed. 
Laurence Louer, Shiism and Politics in the Middle East (Columbia/Hurst).  An extremely useful guide to the politics of Shia networks in today's Middle East.  This slim volume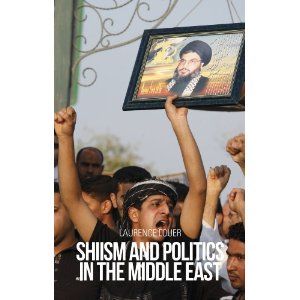 could use a bit more focus and a bit more depth (of the sort found in 2008's Transnational Shia Politics,
by the same author).  But its sharp explanation of the role of specific
Shia networks across the Middle East offers genuinely eye-opening
insights into the nature of political and intellectual influence across
these Shia communities.  It helps to make sense not only of Bahrain, but
of Iraq, Saudi Arabia, Iran, Lebanon and beyond. 
Joseph Sassoon, Saddam Hussein's Baath Party: Inside an Authoritarian Regime (Cambridge). Sassoon draws on enormous volumes of Iraqi documents and audiotapes seized after 2003 to
reconstruct the organization of Saddam Hussein's Iraq.   The result of this unprecedented archival research is a painstaking, understated but powerful demonstration of the logic of an authoritarian state from the inside.  With this new documentary access into the inner workings of the Iraqi security state, Sassoon' book begins to fill in one of the massive missing pieces in the historiography and analysis of the politics of the Middle East.  
Congratulations to all of these outstanding colleagues for writing such outstanding books.   Reading work like this reminds me of why I'm so proud to be part of the Middle East Studies intellectual community. 
And…. there's of course another tradition here:  the best hip hop
albums of the year!  And for the first year in the history of the
awards, the winner isn't going to include Kanye West or Jay-Z. Cruel
Summer had some truly great songs (including "New God Flow", with Pusha T
and Ghostface Killah, my nominee for song of the year), but just didn't
add up to a complete album.  A number of other albums with great
potential had bright flashes but ultimatedly didn't quite cut it:  Nas, Life is Good (can't get past the Jay Electronica ghostwriting allegations); Lupe Fiasco, Food and Liquor II (amazing in places but too preachy); Slaughterhouse, Welcome to Our House
(brilliant at times, but repetitive and too many dud tracks); Game's Jesus Piece (too erratic); Big Boi's Vicious Lies and Dangerous Rumors (great fun though).  
Two albums were simply brilliant, and probably would have won in another year. Kendrick Lamar's good kid, MAAD city and Big KRIT's Live from the Underground were
each lyrically
complex, musically distinctive, and true to a unique
musical vision.  These two intelligent, spirited and experimental young
rappers, like J.Cole last year (hear all three together here), point to the bright future of hip hop
beyond the exhausted gangsters and the tiresome club bangers.  I loved these two albums and can't wait to hear more from these two incredibly talented young lyricists. 
But the album of the year is the one that has stayed on the top of my iPod since the spring:  Strange Clouds
by B.o.B.  Nothing else out there could match it for its insane
energy, lyrical wordplay, sheer fun, honesty, and dazzling motion.  
Watch "Play for Keeps", "Both of Us" (with Taylor Swift), and "So Good", but stay away from the Nicki Minaj trainwreck "Out of My Mind," the album's only dud.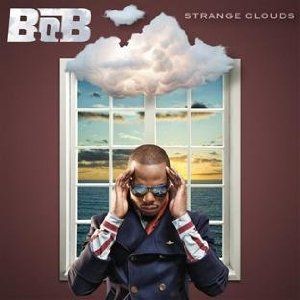 And so there you have it:  B.o.B. not only got to perform for President Obama, open for Jay-Z and Eminem, and win the 2012 People's Choice Awards — he also gets this year's nod for the coveted Abu Aardvark's 2012 Album of
the  Year. Way to go Bobby Ray!